The Marianist garden that we contemplate today in Togo comes from a seed, born in the hearts of the Swiss Marianists, in particular that of the three pioneers Auguste Augustin, Stéphane Hoïn and Pierre Cattin, on the initiative of Father Robert Mattlé. They embarked, after their farewell from the cathedral of Sion in September 1958, to an adventure and mission whose primacy they could not imagine today.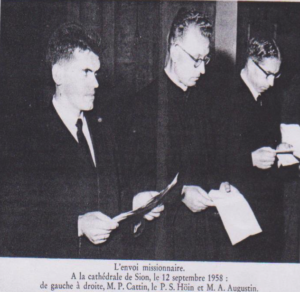 They went to a foreign country and arrived on a land, our land, which became their new family. They were welcomed by the bishops, the clergy and the local population.
Confident of the Lord's call to them, they worked with all their essence to implant the Marianist charism in Togo. The first mission started in Lama-Kara, with what will become today Chaminade High School in Kara and the Bx Chaminade community.
With the rooting of the Marianist spirit in Togo and the increase in the number of religious member, new missions and communities were born, each responding to the inspiration of the Spirit to serve and love our fellow people. St Joseph community of Sotouboua was inaugurated in 1995 with an agricultural farm project to provide assistance to local populations. Jakob Gapp community will follow in 2006 in Lomé as a formation house. Finally, the youngest among the communities of the Region is Sabino Ayastuy, in Natitingou (Benin), which opened its doors in 2007, with the aim of reinforcing local education. Again, the Spirit carried us to a new country.